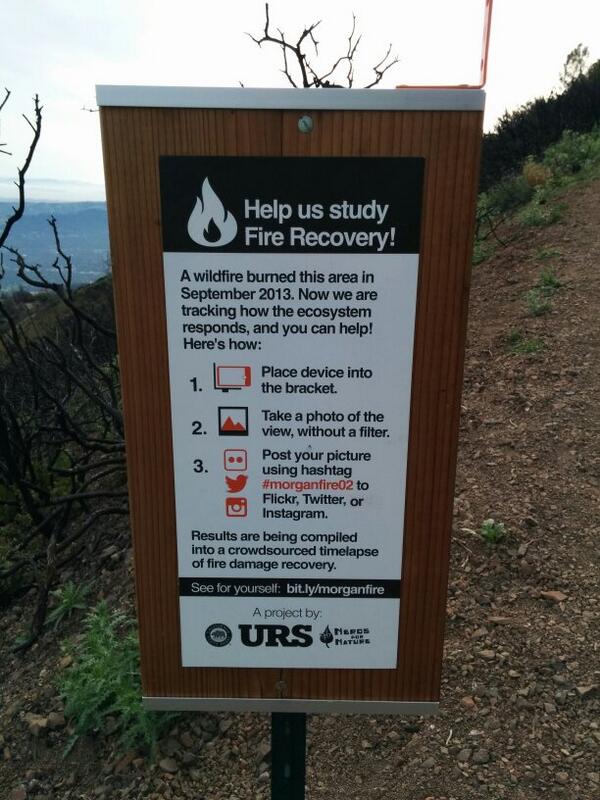 Any headlines predicting the "end of Twitter" or fearing that "everyone is bored with [social platform] now" fail to recognize that humanity is pretty good at coming up with innovative uses for the tools at our disposal, and that Twitter and other social media platforms are no exception to this. Case in point: A fire recovery study project currently underway in Mt. Diablo State Park done by URS and Nerds for Nature after the Morgan Fire burned 3,000 acres last year in September.
How does this work?
By setting up a series of fixed vantage points around the park- there are brackets to put your smartphone in so all the photos are taken from the same angle- the project is able to gather reliable, gradual photographic evidence of the recovery of the park's different ecosystems. Each site has its own hashtag to distinguish it: #morganfire01, #morganfire02, #morganfire03, #morganfire04.
Looking at the snapshot reports for each of these vantage points, you can see which ones are more commonly frequented by hikers. This gives citizen scientists as well as the projects heads themselves an idea of which areas could use more visits and photo captures, and enables them to quickly and easily spread the message and make plans about where to go. Park ranger resources can also be used more efficiently this way.
The overall conversation on Twitter.
Once a news cycle on an event like this gradually shuts down in the days or weeks after it happens, it's rare to hear much more about it; projects like this are just one way social media is changing the landscape of journalism with crowdsourcing. It also gives citizens a direct role to play in the preservation of their local environment as citizen scientists. This would be a great project for a family, group of friends, summer camp, or science class to get involved with, and social media- particularly Twitter- is one of the best ways to amplify this message and make these kinds of suggestions.
On Instagram.
While Twitter users seem to mainly be using the platform to share news about the project itself, Instagram users have been carrying out the instructions on the sign posts and posting photos from the different vantage points using the hashtags:
#morganfire02 via Instagram user mo_nini_l 
#morganfire04 via Instagram user coyotethunder
This plays to the strengths of each platform; it's harder to describe what a project is about on Instagram which doesn't enable link-sharing, while this is Twitter's main strength. The stunning visuals of the recovering areas of the park posted on Instagram can capture attention and make a user curious about what the hashtags mean, leading them to ask the user or search out the information themselves on other social sites, like Twitter.
If you live in the Mt. Diablo State Park area, consider making a weekend hiking trip out to Mt. Diablo and contribute to this citizen science project on your social networks! You might be the first to see something like this wild lily coming back:
via Instagram user coyotethunder